We are the Feather Tribe, a movement of upliftment and freedom.
A collective of people showing our connection with our unique hand carved feathers.
A heartfelt social enterprise business by which we share the joy of giving to a charitable cause through a percentage of the profits of our beautiful feathers, bird and wing inspired, carved, cast and hand crafted jewellery.
We welcome you to the tribe and invite you to find a symbol of that freedom which will remind you daily that you are; infinite and special in your own unique and perfect way.
We are far more than a brand or a business, we are a tribe!
It takes many feathers to make a wing, and it's only together that wings can fly.
The sky is no limit, it's where we live.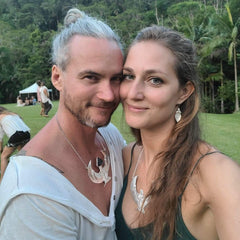 Jester Featherman and Mariette
Founder and creative mind of Feather Tribe is Jester Featherman, and operates from his home country Australia, together with his beloved partner in life Mariette.
We have 4 teams of Balinese families who are our talented carvers, and the backbone of the tribe;
- Bagong, Edy and co. who create all of the carved feathers
- Doblet, To Joe and co. who create all of the carved wings
- Kartika who creates all of the shell fairy wings and kartika feathers
- Made and co. who create all of our metal pieces